The Clean Comedy Time Podcast
Listen to the Clean Comedy Time Podcast. Brian and Aaron chat about the good, the bad, and the funny with comedians from our Clean Comedy Time shows. Our guests open up about what's going well and even what they are struggling with as we discuss jokes, comedy, and life.
You can find new episodes below or on: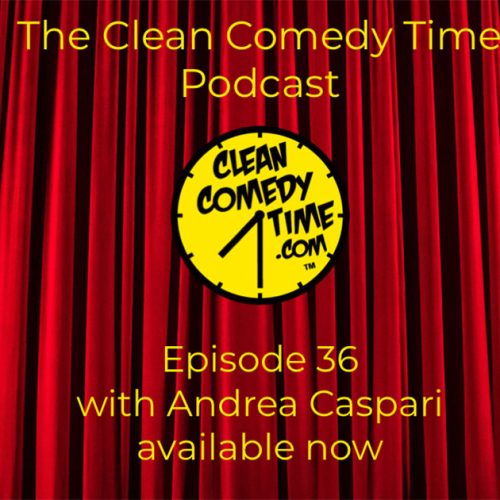 The Clean Comedy Time Podcast guest is Andrea Caspari. Andrea is a Kansas City based comic, the 2019 Pasadena Clean Comedy Challenge Champion, and has recorded a Dry Bar special. We talk with her about the good, the bad, and the funny.
You can find Andrea Caspari on Facebook.
Whatever you do, don't expect much from her website: Andreacaspari.com
From tales of plus-sized shopping to stories of her day job as a high school English teacher, Caspari brings a unique voice to comedy. She often incorporates poetry, rapping, and singing into her performances. Caspari recently won the Clean Comedy Challenge at the legendary Ice House Comedy Club in Pasadena, California. Her Dry Bar special will be out in the next few months.
She was named the Funniest Female Comedian in Kansas City, was the winner of 95.7 the Vibe's Big Break, and regularly produces and headlines her own showcases at clubs and colleges around the nation. She is a humorist and motivational speaker who performs for corporations and schools.
Caspari has shared the stage with Arsenio Hall, Pauly Shore, Charlie Murphy, Leanne Morgan, Wendy Liebman, Joe "Mr. D" Dombrowski, Gina Brillon (AGT Finalist 2021), Colin Kane, Jen Kober, Devin Siebold (from Bored Teachers), Luenell, Jeffrey Ross, Ian Bagg, Fortune Feimster, Chris Porter, Robert Schimmel, Jo Koy, Eric Schwartz, Tommy Davidson, Jim Breuer, Bobby Lee, Lynne Koplitz, and many others.